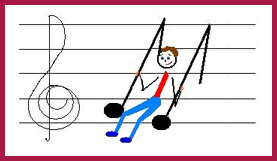 A Musical Playground
Picture children in a playground. They choose their own activities and are intensely focused on whatever they are doing. Children stick with one thing for a long time or flit from the slide to the swings and back to the slide again. They challenge themselves to go beyond what they can already do, in keeping with their own readiness. While the word "play" is generally used to mean something that is fun, easy and leisurely, there is really nothing casual about children at play.
Music House works very much like a playground. In the same way that playground equipment defines that space as a place in which to do athletic things, Music House equipment defines the space as a place in which to do musical things. A piano, autoharp, xylophones and percussion instruments are everywhere, and it is up to the child to decide what she wants to do and for how long. A child may stay with an instrument for as long as he likes or flit back and forth. The looks on these children's faces say it all – they are intensely involved in their activities.
An interesting note: While the atmosphere is similar, most children instinctively know, regardless of their ages, that musical instruments require different treatment from playground equipment. While I have seen children bang on a piano or otherwise test the limits in a more teacher-structured situation, I can't think of a single time when I've had to remind a Music House student that instruments need to be handled gently and respectfully.