About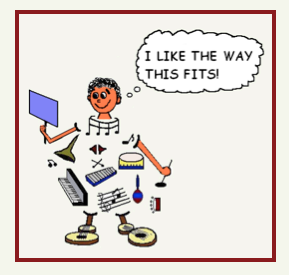 Enter the Music House and discover a whole new way to look at music learning.
Whether you are:
A parent looking for an extraordinary experience for your child
Curious about your own musical ability
A music lesson drop-out in need of advocacy
An educator in search of "The Revolution"
A pro musician who can't imagine that teaching music could be thrilling
A child looking for happy music making …
…You've come to the right place. Please make yourself at home!
Overview
Music House is a one of a kind, highly individualized, holistic alternative to traditional music lessons for children and adults. Whether you choose to focus on one instrument or explore a variety of instruments and activities, the goal of Music House is to help you find a personally relevant musical experience, and to nurture your development not only as an instrumentalist, but as a whole musician.
Mission
The mission of Music House is to facilitate musical self-discovery, honor and nurture each individual's particular musical inclinations and to enable every learner to forge lifelong musical connections.
Learn about the philosophy and vision behind this unique approach to music learning: How does it differ from traditional approaches? What functions does it serve for different learners? On what precedents is this idea based? Click here to learn more.
A great many children who begin music lessons with hope and enthusiasm end up quitting there lessons in disappointment and confusion,never to connect with music making again. I believe that we are entrusting our musical development to a structure with a very limited idea of what musical development can mean. Click here to learn more.
At Music House, individuals choose what they will do, how they will do it and for how long. The teacher serves as a sort of Genie, available to guide in any way that is needed. Click here to learn more.
I'm so unconfused right now! – Simon, age 16
David is learning so much from you about music and loves it so much. What a joy it is for us to see his excitement in the discovery of different aspects of music. He is singing so much around the house these days — now with much more sense of the music, his voice, etc. On his own, he plays the piano, experiments with things. It's such a joy. I was taken with how focused, energized, and — grown-up — he seemed when I picked him up last week. It is clear that he takes what the two of you do together very seriously.  It's just wonderful to see David blossom in the wonderful environment you provide. Read more …
This out of the box approach to music learning may leave you with lots of questions. Maybe you will find the answers here.
Meryl Danziger, AKA "The Music Genie," is the Founder and Director of Music House. Meryl's twenty-five year career has reached into every corner of music from performance to education to writing. A published author, Meryl's book Sing It! A Biography of Pete Seeger (2016, Seven Stories Press) is the first bio of Pete for young readers. A published songwriter, Meryl's original songs, stories and plays are regularly performed by children of all ages. Her articles on education and music education have appeared in NEA Today as well as in Homeschooling journals nationwide. Meryl's Music House approach has been the subject of two documentaries and her book, Music House: Redefining Music Learning, will be available shortly.  Formerly Chairman of the Music Department at the Little Red School House in NYC, Meryl now devotes her time to Music House through speaking engagements, writing articles and blogs, and helping children and adults discover and nurture their "Inner Musician." Read more …
Music House was created in the year 2000 when a parent – one of many – approached me with an unhappy story of his son's piano lessons. The child had started out full of enthusiasm and hope, but now, after several months, was feeling bored, stifled and discouraged. The lessons had no personal relevance for him, and now he wanted to quit. His father was, understandably, distraught.
Alas, this was not the first such story I had heard; Far from it! For a long time, parents at the school where I was teaching had been coming to me with stories that were amazingly similar: Their child hated to practice, had lost interest, and the excitement initially felt at the prospect of lessons had entirely disappeared! So without being aware of it, I had been pondering the situation for quite awhile.
Therefore, by the time Charlie's dad came to me, I was ready with a response, and I blurted out an idea I didn't even realize I had! I began to expound on a new way of approaching lessons: one that would be exploratory in nature and personalized for the needs, interests and readiness of the student. I went on and on: "I'm not a pianist or a piano teacher," I said, "but if I were teaching piano to a beginner it wouldn't be about black dots on a page or proper fingering. It would be about using the keyboard as a map of music, experimenting, becoming familiar with tonal relationships, discovering what happens when you play these notes together, learning how to play by ear. I went on and on, expounding on an idea I did not even realize I had. Dad held out his hands in a gesture of supplication. "Take him," he said.  Read more …